Pleasant furnishings are the cornerstone of a comfortable home. They're also very expressive: what fills your home says a lot about you, the way you like to live, the way you enjoy spending your time. For this reason, your home must be full of things that aren't just functional: you appreciate them being there.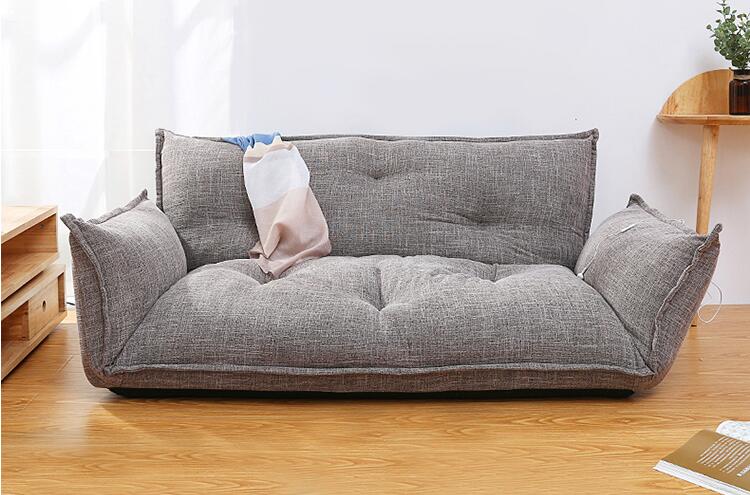 A Japanese floor sofa isn't merely an elegant addition to your home. It's a surprisingly versatile piece of furniture, doubling as a sofa bed. It is also an attractive addition to your home that can turn activities that you enjoy already into a cosy fantasy.
Here are some of the ways a sofa bed can make your home into a more joyful place.
Taking It Very Easy
Slumping down after a long day is always a treat. Being able to sprawl out or snuggle up on a luxurious sofa bed is just an added indulgence.
The floor sofa features a minimalist aesthetic, making it the perfect place to feel at peace while you retreat from the day. Soft, broad arms and the option of adding pillows make this seat a beautiful base for relaxation when you've finished with work for the day.
As the seat is close to the ground, it's much easier to rest without overhanging limbs than with taller furniture. This design and the plush comfort of the seats transform the Japanese floor sofa from just a seat into the lounge equivalent of a warm bath. You won't want to get up!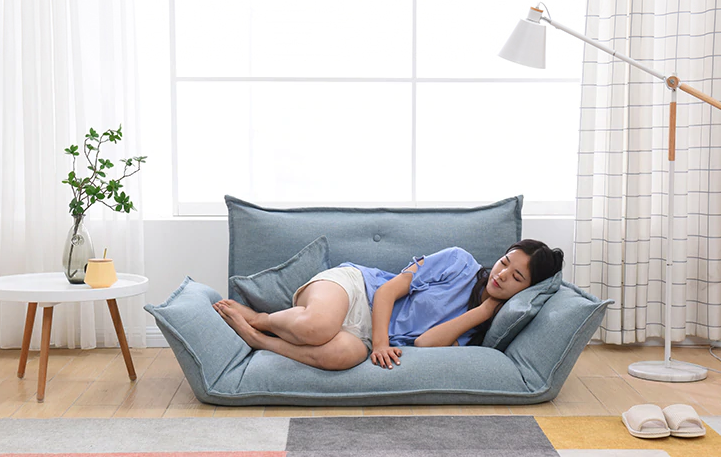 Lounge Lizard
The most obvious place for a sofa bed is in the living room. Especially in a flat, it's the social hub and worth investing a bit of chic and comfort. Having a great place to relax and watch TV is a blessing, and the low level of the floor sofa makes it a much closer, more intimate viewing experience.
This lounge appeal is even more true if you're a fan of gaming. From bean bag chairs to arrays of blankets on the floor, gamers have known for years that being closer to the action is a good thing. It's even better if your resting place is purpose-built. The Japanese floor sofa provides a fantastic place to immerse yourself in watching TV or gaming.
Play Room / Montessori Room
Another place the Japanese floor sofa will find a good home is in a kids' bedroom or playroom. Being accessible from the floor means that even younger children can easily climb aboard and snuggle up. Perfect for those of you who have a Montessori home and are looking for a piece of furniture which will grow with your child.
For slightly older kids, it's a beautiful place to relax and do what they enjoy. Whether it's reading a book or playing a handheld console, a comfortable floor sofa on which your kids can unwind will keep them occupied in quiet comfort.
Settle Down with a Book
It's not just kids who will discover that the Japanese floor sofa is the perfect place for a quiet read. It's so easy to sit back and relax with a book on the floor sofa. The design makes it an ideal spot to while away a few hours with that book you've been planning to get stuck into for months.
Even better, you can combine the two. Having your early learner cuddle up with you and learn to read their first words is always a beautiful experience. It's even better when you can do it in perfect comfort, and the Japanese floor sofa is an ideal venue for that. As the evening passes by, you'll come to see why it's a sofa bed as their little head starts nodding!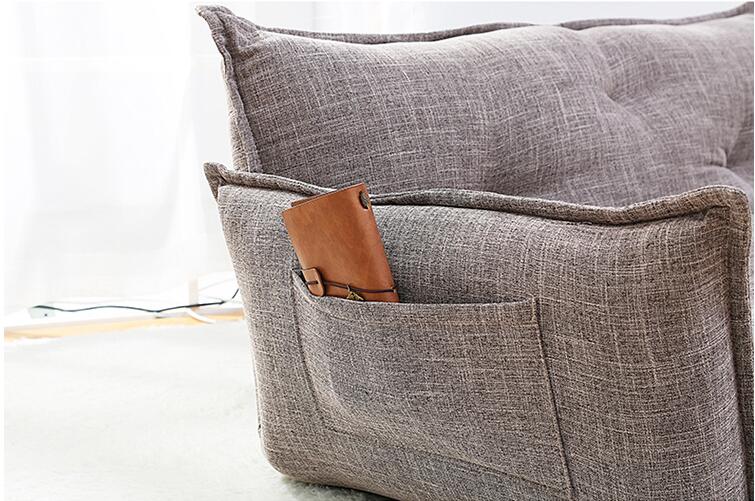 Nap Time
Whatever age you are, there comes a point now and then when you want a quick little nap. You don't want to tuck yourself up in bed properly, but you need a cosy place to lie down for a bit.
The Japanese floor sofa extends out into a sofa bed, so if you want, you can easily adjust it for a full stretch out. Otherwise, its sloping arms and comfortable padding make it a perfect place for a snooze. Besides this, the floor sofa's quiet, minimalist vibe lends itself to a gentle afternoon nap.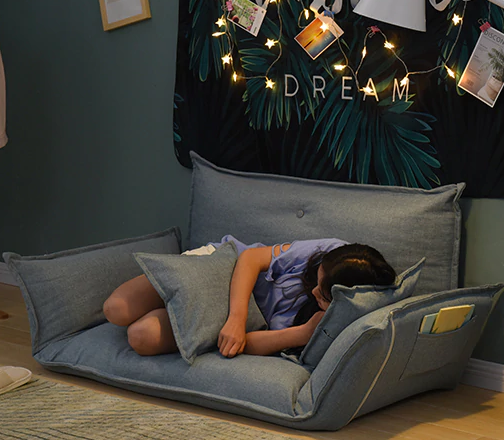 Getting Down
There's something comforting about relaxing close to the floor. The Japanese floor sofa bears in mind that it's customary in Japan to sleep on the floor – it can also help with back pain.
When used as a sofa bed, it's not just a sofa which can kind-of be a bed, as many sofa beds are. This item is also genuinely designed as a bed and provides the kind of night's sleep that any bed should.
Dog Tired
If you have a cat or a dog, they'll undoubtedly love the floor sofa as much as you will! Knowing how to cover or protect your belongings is essential for anyone with pets, of course. All the same, if you're happy with your furry friends on the furniture, the Japanese floor sofa will provide you with a lifetime of snuggle opportunities.
They'll also love taking naps on the sofa bed (especially catnaps). It's heartwarming to know that your beloved pets have a favorite place to sleep, and this is about to become that place!
Great for Entertaining
There are so many ways that your guests will appreciate the Japanese floor sofa.
Firstly as a social hub – if your friends are gamers or you all love to watch TV, it's essential to have comfortable seating.
Secondly, you'll be getting a load of compliments on how chic your apartment or house looks with this gorgeous piece of minimalist furniture!
Finally, if anyone needs to crash, you'll have a perfect sofa bed to offer them. Anyone who's spent a night on a friend's lumpy couch will know the value of that!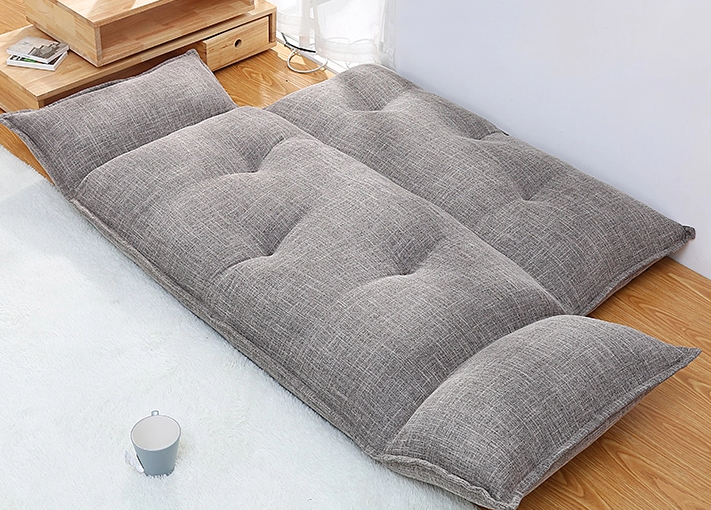 The Bottom Line
The Japanese floor sofa is an elegant addition to any home, as well as an astonishingly versatile piece of furniture. Buying one today will transform your home and bring joy to your living experience.